TECHNO
PLAST
Member of Techno Group
Techno Plast - HDPE Corrugated Pipes:
For Sewer Networks produced under the trade mark name TECHNO LENE OUT
Our pipes are structural double walled pipes made out of Black HDPE material. Manufactured according to EN 13476-3. Sizes available: ID 200mm, 250mm, 300mm & 400mm in both SN4 & SN8.
Sizes ID 200mm , 250mm , 300mm & 400mm are Corrugated structured pipes produced in 12 meters long.
Pipes are joined by using an external Coupler that is structural & injected along with two Gaskets . The Gasket is placed on the pipe between the external profiles.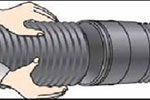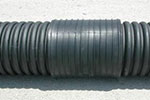 This system allows cutting the pipe to any length on site & joining it by the external Coupler . We can also, on request , supply an integrated socket with the pipe. The pipes are produced in stiffnesses of 4kn/sqm & 8kn/sqm
Printed on each pipe are the following information:
TECHNO PLAST
EN 13476-3
INSIDE DIAMETER
STIFFNES
LOT No
DATE OF PRODUCTION
"MADE IN SYRIA"
The Lot No. for a specific pipe will make it traceable & a record at the factory will supply the following information:
Date Pipe produced
Name of head of production crew
Source & type of material used
Machine used for production with all set parameters
Results of Laboratory tests that were done on this Lot No
The tests that are regularly performed in our laboratory for each Lot are the following:
Stiffness test according to ISO 9969
Flexibility test according to EN 1046
Socket thickness to comply with EN12666-1 , e2 & e3
Socket thickness to comply with 7.2.5.3 of EN13476-3
Thermal Stability, OIT according to ISO 10830
Gasket test according to EN 681
Tightness test for a leak proof joint
Accessories:
FITTINGS
Tees, Elbows & Flanges are fabricated for all sizes
HOUSE CONNECTIONS
A special fitting is available to connect the house sewer to the main line.
Download:
Gallery: