TECHNO
PLAST
Member of Techno Group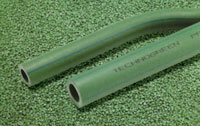 For Cold & Hot water Networks for domestic use produced under the trade mark name TECHNOGREEN. Our pipes are made out of PP-Random Co-Polymer Type3.
Our pipes are Manufactured according to DIN8076, DIN8077 and DIN8078.
Our pipes are certified by the German SKZ certificate. Available sizes are OD 20mm, 25mm, 32mm, 40mm, 50mm, 63mm & 75mm.
TECHNOGREEN is a complete system offering pipes and fittings.
The pipe can withstand a temperature up to 95 Deg C and a pressure of 20 bars. It is suitable for drinking water networks it is also resistant to chemical products that makes it suitable for industrial and laboratories networks. Smooth inner surface does not allow any sedimentation on the inner wall. The smooth inner surface offers a low coefficient of friction with no noise for the flow of water. High impact at zero temperatures and highly resistance to corrosion. 
Download:
Gallery: